History of Art and Architecture faculty and students engage with local collections in a variety of ways. These class activities, object-based encounters and community events represent just a handful of the ways in which we facilitate access and encourage new research.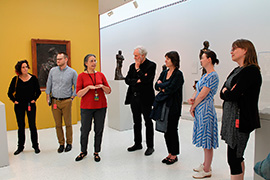 October 2017
Thomas Eakins discussion at the CMOA
Hosted by Lulu Lippincott, Curator of Fine Arts, and Jennifer Doyle, Professor, UC Riverside, this gallery discussion explored the sexual politics of Thomas Eakins' Study for Salutat (1898).
See the painting here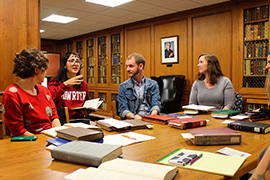 September 2017
Falk Library collection visit
For the Queer Modernisms graduate seminar, this class visited the Rare Books and Special Collections room of the Falk Library of the Health Sciences to inspect a selection of early sexology and psychiatry titles.
Explore the Falk Library here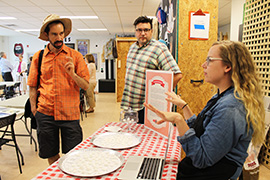 August 2017
Smog meringues at the GASP Air Fair
Consuming Nature participant Shelby Brewster served smog meringues at the GASP (Group Against Smog and Pollution) Air Fair, held at the Assemble Community Art Space in Garfield.
Read more about this culinary performance here